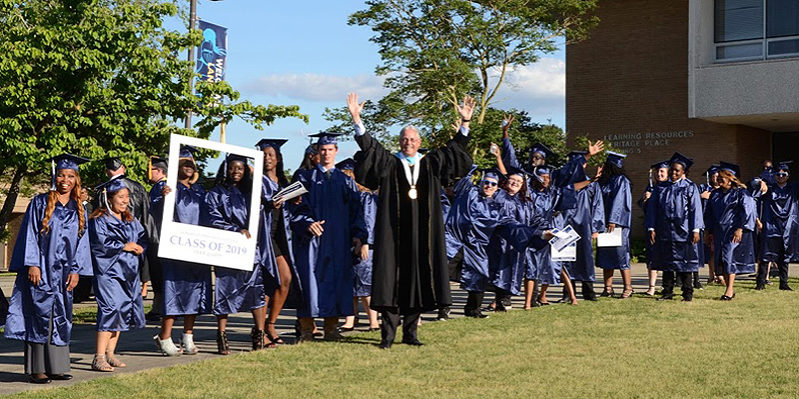 The myth that a high school diploma is not needed to succeed – that drive and ambition alone are enough – doesn't hold true in today's economy. You can't do much without a high school diploma. In order to further your education at any college, this credential is required. Lenoir Community College is the best local solution to obtain a high school equivalency diploma (HSED, formerly GED) to start a career, increase earning power and dramatically impact your financial success.
"An adult high school diploma or a high school equivalency diploma earned at LCC can bridge the gap for many to personal as well as professional success," said Dr. Dustin Walston, dean of Workforce Development and Continuing Education. "Our instructors have a passion for working with our students to help them achieve their goals."
What Lenoir Community College offers:
Adult Basic Education (ABE)

Adult High School (AHS)

English As A Second Language (ESL)

Gaining Occupational and Life Skills (GOALS)

High School Equivalency Diploma (HSED)

HSED – We Make Getting Started EASY
No high school diploma? LCC can help. No one really intends to drop out of high school but things happen.  Sometimes, life just gets in the way and makes education seem impossible. Life changes. You change. Goals change. It happens all the time.  A High School Equivalency Diploma is accepted by all public and most private colleges and universities, as well as most employers. Getting your HSED involves taking a series of tests designed to measure the skills equal to those represented by a high school diploma. The tests measure writing, social studies, science, reading, and mathematics skills.
Programs designed just for you
Everyone is different and has different skills and abilities. Instructors will assess your current educational level, then design a training program for you. No fees are charged for attending Transitional and Career Studies Program (ESL, HSED, ABE or AHS) courses. There is a fee for taking the official HSE/GED test.
Registration is easy and quick
Classes are held continually throughout the year with registration during various months. For information on class locations, schedules, online options and registration information, call Nikki Proctor, Director of Transitional and Career Studies at 252-527-6223, ext.738. Day and evening classes are offered on campuses in Kinston, Snow Hill, and Trenton. Online options are also available.
Lenoir Community College Transitional and Career Studies 
also assists adults needing the following:
Adult Basic Education (ABE) – Adults who have not graduated from high school and high school graduates who need instruction below the ninth-grade level may enroll in Adult Basic Education. Instruction is provided in the areas of basic reading, English, math, spelling, and writing. ABE classes help to prepare adults who want to enter an AHS or HSED class. Students work at their own pace and receive individual help as needed. There is no registration fee and books are provided for student use in the classroom. Students may enroll at any time.
Adult High School Diploma (AHS) – LCC has agreements with Lenoir, Greene, and Jones County Public Schools to award the adult high school diploma. As is the case with the traditional high school diploma, students are required to earn a total of 20 units of credit (including those that are transferable from their high school transcripts). The 20 competency-based units include English (4), math (3), social studies (3), science (3), health (1), and electives (6). This program is available on the Kinston campus only.
English as a Second Language (ESL) – Acquire and/or improve your reading, writing, and speaking skills if your primary language is not English and your skills are below the level to function effectively in English. The program provides language learners with essential life skills that enable them to function in an English-speaking society. These classes are also helpful for students who plan on taking HSED or AHS classes or the United States citizenship exam. ESL courses are free and study materials are provided at no cost.
GOALS (Gaining Occupational and Life Skills) – This program offers students with intellectual disabilities an opportunity to improve academic weaknesses, explore a variety of careers, and to gain soft skills that will make them more marketable for employment. This program is designed to be completed within two years.
Online Classes – Transitional and Career Studies offers AHS and HSED classes online. Interested students will take a placement test to determine eligibility. A minimum test score is required to ensure student success. Instructors closely monitors student progress and communicates through e-mail on a regular basis.
For more information, visit Transitional and Career Studies.