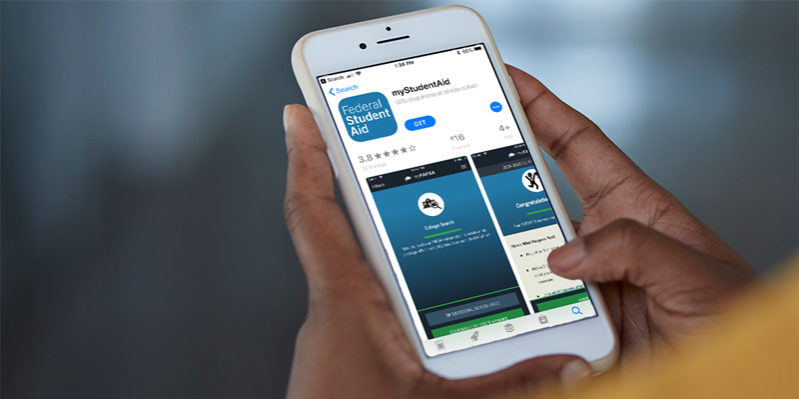 Good news, you can now apply for financial aid in the same way as sharing snaps and stories – on an app. The U.S. Department of Education has now launched the myStudentAid mobile app to help first-time students apply for aid in the 2019-20 academic year.
The Free Application for Federal Student Aid (FAFSA) is truly the "keys to the kingdom" of financial aid. It can open the door to federal Pell grants, state grants, Stafford student loans, scholarships and work-study programs. Everyone – whether they consider themselves rich, poor, or in between – should plan to fill out a FAFSA application as part of applying to college.
Pell Grants: free money for college, really!
Every year, over 7,500 students get help with their education through Pell Grants. $125 billion in grant aid is distributed across all federal student aid programs. Many receive Pell grants of up to $6,000 to finance tuition, books, living expenses and transportation. Best of all, these funds do not need to be repaid; they are a federal government subsidy to assist college students.
Don't be one of the millions of students who forgot to get in line! Or showed up too late! To qualify, you must demonstrate financial need and make sure you fill out the FAFSA. If you submit the form early, your chances increase for the best overall package of financial aid.
Asked about the new app, Mike Kantrowitz, a financial aid expert, said, "It was actually fun to complete. It makes completing the FAFSA much easier." The app offers guidance along the way if you get stuck and has the same data protections as the online version.
Prefer the computer, or want to use both the app and the website?
No problem. You can fill in a FAFSA online at fafsa.ed.gov. Or, you can start on one platform and finish on another. Any way you do it, you will be sent a report on your eligibility for the Pell Grant and the amount you can expect to receive. Some states will not yet let you transfer your FAFSA information directly from the app, so the desktop version is still necessary. If you previously filed a FAFSA online, you must also file from your computer.
It is best to get the full story about everything for which you are eligible. Your best advocate will be LCC's financial aid advisor. Don't hesitate to consult with the experts!
Helpful FAFSA terms:
GRANTS

are gifts that do not need to be paid back. Grant decisions are based on family income, household size, reported assets, and the number of children in college. The most common is the federal Pell Grant.

LOANS

must be paid back to the lender, with interest. Loans mean debt. If you go this route, make sure to request just what you need, not the higher amounts that might be offered. Lenoir Community College does not participate in a loan program.

SCHOLARSHIPS

are gifts that do not require repayment. They can be based on academics, hometowns, gender, ethnicity, or specific programs. Many states and localities are now offering "promise" scholarships based on academic standing. However, most of these also require the FAFSA. Additionally, colleges will generally have one application for all internal scholarships, and some will take into account student need from the FAFSA.

WORK STUDY

is a federally-financed aid award. FAFSA will help you qualify. Students are limited to 20 to 25 hours of work a week and have the opportunity to earn valuable work experience at their college.
Lenoir Community College Financial Aid
Financial Aid Office may be accessed by calling (252) 527-6223, ext. 371, or email [email protected]. You can schedule a virtual meeting through Webex to speak to a Financial Aid counselor by going to the College's webpage, www.lenoircc.edu, and click on Paying For College at the bottom of the page. There you can "Schedule a Virtual Session" to the right of the page.
For more information, visit FAFSA.