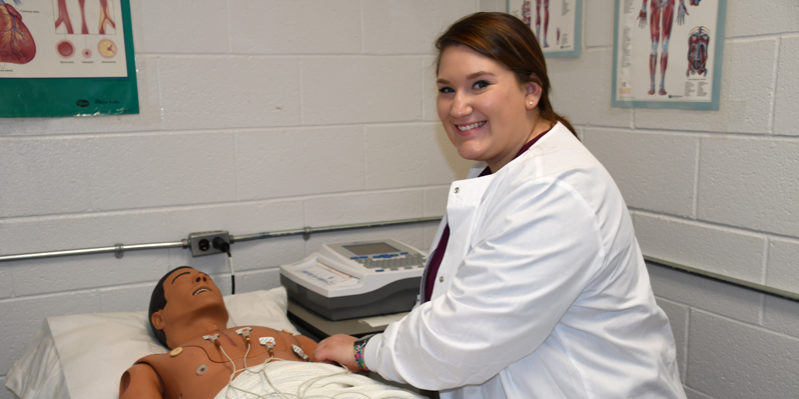 By Mallory Kennedy
Medical Assisting student Aubrey West of Kinston knew she picked the right career choice that fit her passion for the healthcare field and the many opportunities that came with being a medical assistant.
"I chose to attend Lenoir Community College because it was close to home, has smaller class sizes, and the opportunity to have more one-on-one interaction with the instructors," she said.
West currently works at a local physician's office while in college.  "I see firsthand how essential medical assistants are in the daily practices. I have been able to take what was I was learning in class and apply it to my job to help me better understand and learn certain concepts," she said.
"I feel confident that I have chosen to go into a career that will provide many opportunities and open doors for me."
During her final weeks in the program, West and her classmates had to transition to distance learning due to COVID-19. During this transition, typical face-to-face classes were switched to online lectures, with nightly WebEx meetings.
"Our instructors Mrs. (Rebecca) Dail and Mr. (Tyrone) Jones made the transition seamless for us. They made sure to make it feel as 'normal' as possible," West said. "Being a student in a healthcare field during this pandemic has shown me that anything is possible in this field and to always be prepared to be pushed outside of your comfort zones."
"If I could provide any advice to students interested in studying medical assisting, it would be to study daily and to stay on top of your assignments," she said. "The instructors are there to help you and want to see you succeed, so do not hesitate to ask for help on things."
West plans to continue her education at the University of Mount Olive after she graduates in May. There, she will work towards earning her bachelor degree in Healthcare Management.