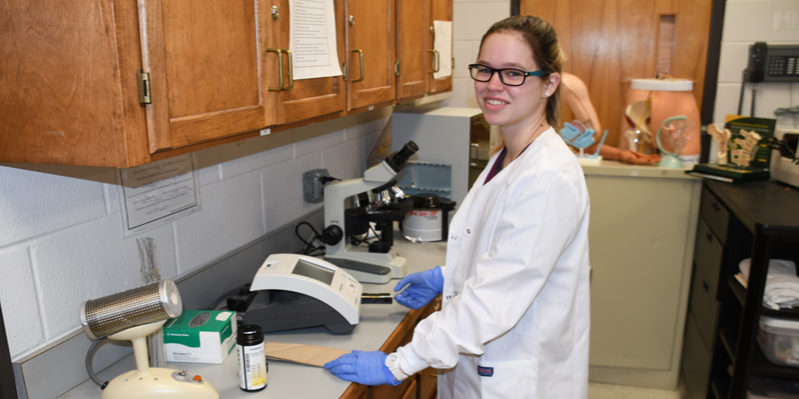 By Mallory Kennedy
Now more than ever there is a new respect for healthcare workers. One of the many positions that are on the front lines facing COVID-19 are medical assistants.
"Medical assistants are one of the first healthcare workers a patient will see in their visit. They are considered a 'jack-of-all-trades.' We train our student's in a variety of areas from greeting patients and answering telephones to changing wound dressings and removing sutures," said Program Director Rebecca Dail, CMA (AAMA).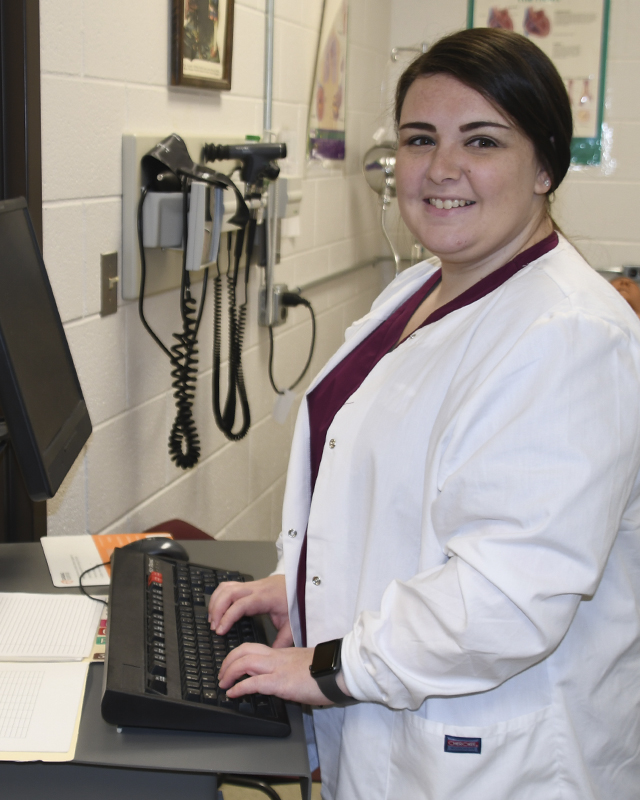 Healthcare is one of the biggest drivers of the American economy, and with an aging Baby Boomer population, the field is poised for a substantial expansion in the coming decades.
Just how big is the US healthcare system? In 2019, Americans spent $3.6 trillion on healthcare, making up one-sixth of the country's gross national product.
With 15 million healthcare workers, more than one in every ten jobs in the US today are in the industry, and according to the federal Department of Labor, hospitals, ambulatory centers, and physician offices are leading hiring.
"Students who do well in this field are those who have a genuine desire to care for patients and enjoy helping others," Dail said.
Students in the Lenoir Community College Medical Assisting Program will complete two years of course work and clinical requirements, earning themselves an associate degree upon completion. After graduation, students will sit for the American Association of Medical Assistants' Certification Examination to become Certified Medical Assistants.
"Our students are finding jobs locally and in surrounding counties," Dail said. "Starting out, students can expect to begin earning an average of $15.00 an hour."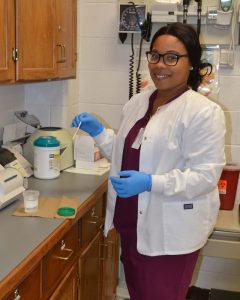 Dail began her career in medical assisting after being recommended for the program by a college counselor. She knew that her desire and passion to help others along with her outgoing personality would suit perfectly for the role of a medical assistant.
"I initially worked in a physician's office. I enjoyed the office setting and working alongside the physician," she said. "But as my career evolved, I saw the need for more medical assistants and decided that continuing my education to be able to share my knowledge from working in the field and teach those wanting to become medical assistants would be my next step."
According to the Bureau of Labor Statistics, medical assistants perform both administrative and clinical duties under the direction of a physician. In 2018, there were almost 700,000 medical assistants employed in the United States. Most of them work in physician offices, primarily in ambulatory care settings. Employment of medical assistants is projected to grow 23% from 2018 to 2028, much faster than the average for all occupations, according to the BLS.
Dail works alongside her co-instructor, Tyrone Jones, CMA (AAMA). Together, they have a combined 39 years of experience to share with their students.
"I first worked in a factory setting and once that closed down, I knew I needed to enter into a career that had job security and my skills would be needed in a variety of ways," Jones said. "I then decided to begin studying to become a medical assistant after seeing the need and the many opportunities available in the field."
Recently, Dail saw the need for medical scribes locally, so she began to work on a curriculum for students to earn a certificate in medical scribe. This new certificate prepares individuals to work with physicians and other medical practitioners to improve workflow in the health care environment. Medical scribes are trained individuals who document and chart the physician-patient encounter during the visit.
"Adding this certificate to a student or employee's resume adds value to their skill sets and makes them more valuable to an employer," she said. This is a growing field in our area, more and more physicians are utilizing medical scribes so that they are able to spend the time needed with patient care."
This new certificate is ideal for those who currently work as a medical assistant or for those currently enrolled in the program.
The commitment to providing modern skills and techniques by the use of up-to-date technology is a top priority for Dail and Jones. Dail says they want to give their students the best education possible by creating real-life scenarios that the students will see when they begin working in the field.
For more information, visit LCC Medical Assisting.