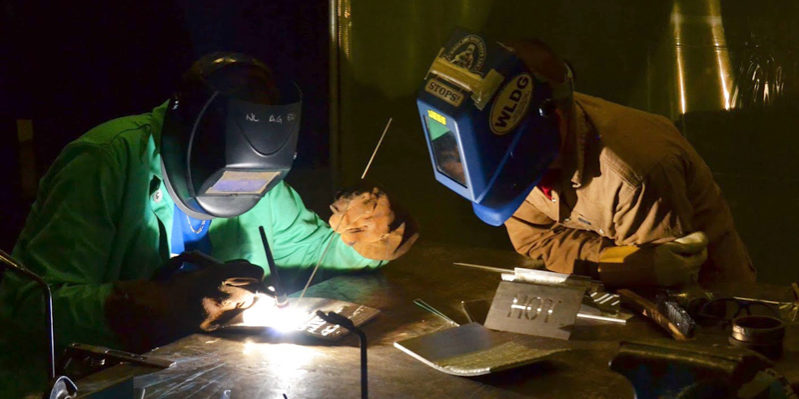 Welding
Associate of Applied Science
Credits Required: 65
By Richy Huneycutt
Looking for a career in welding? This major provides students with a sound understanding of the science, technology, and applications essential for successful employment in the welding and metal industry.
"Students are trained in all aspects of welding and fabrication, said LCC Program Chair James Leonard. "The three main areas are SMAW (stick), GMAW (MIG) and GTAW (TIG). We also focus on cutting processes, blueprint reading and fabrication. Metallurgy and welding inspection classes are also offered."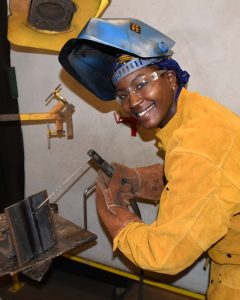 Students get a well-rounded education, and destructive and non-destructive testing provides students with industry-standard skills developed through classroom training and practical application.
Leonard said that a person who enjoys hands on type work would enjoy a career in welding. "As with everything today, computer and math skills come into play each day in the welding field. Someone who enjoys designing, fabricating and completing a project would fit well in the welding field. At the end of the day, you must not be afraid to get your hands dirty and break a sweat once in a while."
There are many ways students can enter the field of welding. For Leonard, it was through the military. "You can do on-the-job training, come to LCC to get the basics and then really hone your skills. If you have a two-year degree, you can test to become a Certified Welding Inspector, (CWI). With a two-year welding degree, you could also do two more years and become a welding engineer," he said.
"Some of the highest paying welding jobs require you to travel to where the work is," Leonard said. "Many jobs last for months or even years, but when the job is completed, you will have to move to the next job. It can be a physical job so you need to stay in good condition so you can make good money whether you work in a shop or travel. At the end of the day, you can look at the work you completed, it might be a building, a bridge, or any number of products."
Leonard said he tells his students to use the time they have in the welding lab to get better each day. "You can gain knowledge every day with books and even YouTube, but the only way to master welding is to practice in the shop."
Career Technical Education (CTE) Diploma and Certificate:The Welding Technology Diploma and the Intermediate Welding Skills Certificate have been identified as a pathway for high school students participating in the Career and College Promise program.
Program Certificates:
Students interested in enhancing their welding skills quickly or wanting to specialize should check out one of the Welding Certificates: Basic Welding Skills Certification, SMAW (Stick) Welding Certificate, GMAW (MIG) Welding Certificate or GTAW Welding (TIG) Certificate.
Certification Examinations:
Students who excel in welding skills may take a Lenoir Community College welding pre-certification test, which is equivalent to the American Welding Society D1.1 plate procedure code.
For more information visit, LCC Welding.