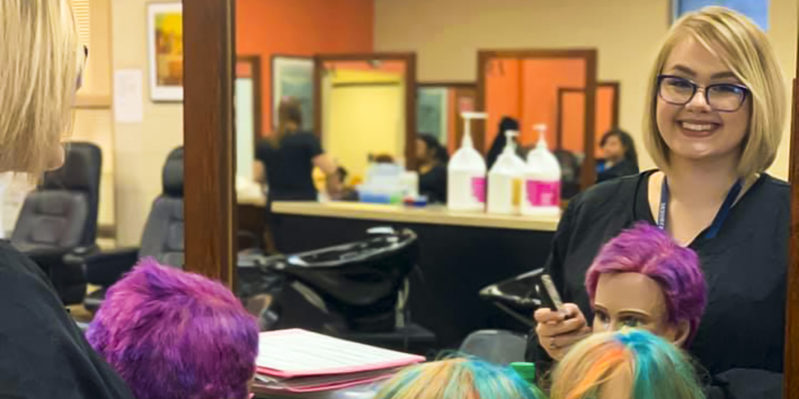 By Mallory Kennedy
Lenoir Community College's Cosmetology program offers students a variety of career possibilities using creativity as a springboard. Whether you are interested in cutting or styling hair, giving manicures or pedicures, applying makeup, or providing skincare, the College offers all this in a simulated salon environment.
Graduates finish with technical skills and training for the real world through a combination of theory and clinical experience. Graduates take their pick of working in a salon, as a self-employed designer, in theatre, television, dermatology, esthetics, education, or as a platform artist.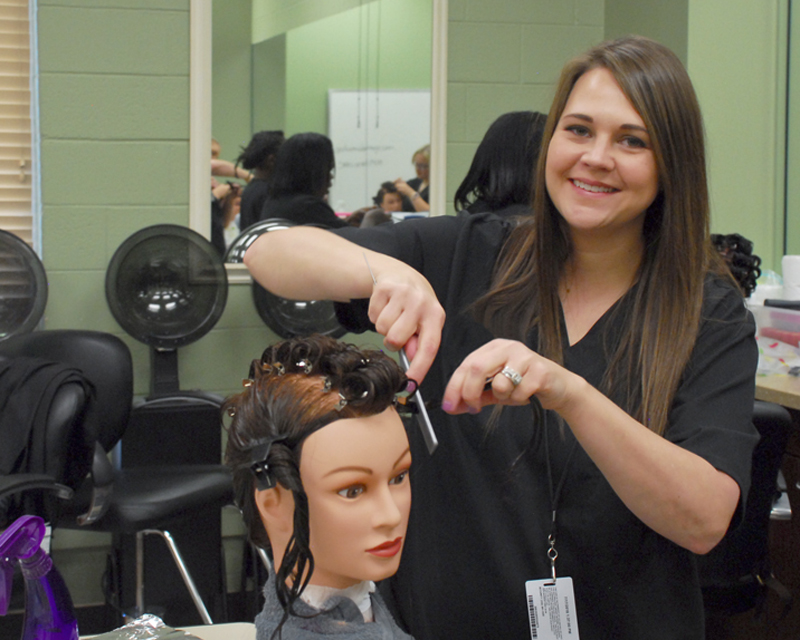 "If you are artistic, enjoy working hands-on work, and love to help others feel beautiful, a career in cosmetology might be the job for you," said Program Chair Christy Riley.
Students gain hands-on experience working on community clients in a simulated salon environment. Under instructor supervision, students perform a wide array of services at a reduced rate.
LCC Cosmetology students learn all phases of professional imaging, hair design, chemical processes, skincare, nail care, multi-cultural practices, business/computer principles, and product knowledge.
Graduates should qualify to sit for the State Board of Cosmetic Arts examination. Upon successfully passing the State Board exam, graduates will be issued a license.
"After graduating, our students will typically find jobs locally or relocate to larger cities such as Raleigh, Wilmington, or Charlotte," said Riley. "A cosmetologist's income depends on if they decide to work on commission, salary, or pay booth rent, but ultimately, the more dedicated, the more successful you will be."
According to the U.S. Bureau of Labor Statistics, the employment of barbers, hairstylists, and cosmetologists is projected to grow 8 percent from 2018 to 2028, faster than the average for all occupations. Population growth will lead to greater demand for hair care services.
Compared to private schools of cosmetology, LCC is a third of the price and offers the incentive for students to obtain an associate of arts (AA) degree or a certificate. If they choose to continue their education, the first two years of general education, along with a vocation, have been completed.
"Choosing to attend LCC for their cosmetology program was one the best decisions I have made," said cosmetology student Marissa Cooper. "I feel confident in my ability to become a successful cosmetologist upon graduation, thanks to the instructors and the College for providing me with the skills, techniques, and tools necessary to do so."
Riley and her associate instructor, Kim Mitchell, also attend classes and conferences across the United States to stay up-to-date on the latest skills, trends, and techniques that are used in the field. "We are committed to providing our students with the best education and modern techniques that are used daily. We want them to feel prepared and confident about their abilities so that they can become successful in their careers."
Once the College resumes its normal operating hours, the Cosmetology Program will need patrons to practice their skills. No appointment is necessary and walk-ins welcome!
Fall and Spring Hours: Monday–Thursday–9:30 a.m.–11 a.m.
Summer Hours: Monday–Thursday–9:30 a.m.–11 a.m., Friday–CLOSED
For more information, visit LCC Cosmetology.
Meeting the needs of the students
Lenoir Community College is one of the many colleges in North Carolina that offers a certificate in Cosmetology, but it is one of few that offers the training in Spanish to meet the needs of Latino students.
Students who enroll in this continuing education program have the option to choose between evening classes during the week or weekend classes.
"To meet the needs of our students, we began this program so that they can continue to work their regular hours during the day and attend class at night or on weekends," says Latino Cosmetology Program Coordinator/Instructor Miriam Del Toro Gutierrez.
This course will prepare students for careers in the beauty industry as licensed cosmetologists. Graduates of the program are skilled in hairstyling, haircutting, nails, skincare, permanent waving and relaxing, and hair color. Upon completion of the program and after attaining a passing score students will be prepared for the State Board Examination.
This course is four semesters (tuition per semester $180), a completion of 1500 hours are required to graduate.
PREREQUISITE: Driver License or Passport, and Social Security Card or Tax ID.