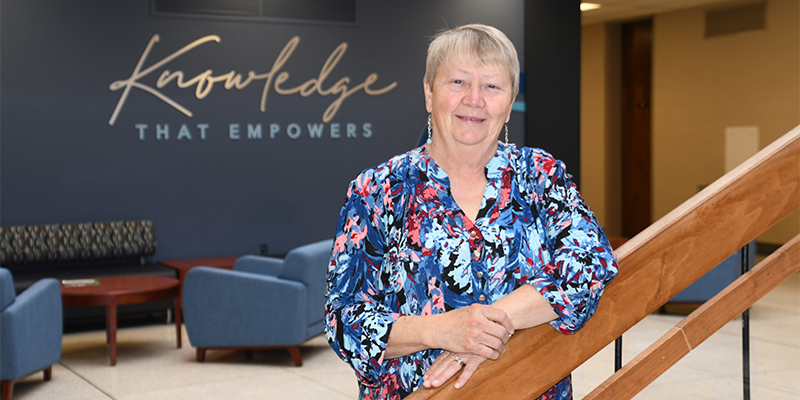 By Cailyn Kennedy
As Lenoir Community College celebrates 65 years of excellence, one employee is celebrating a milestone of her own. Susan Nobles is celebrating 49 years of service, earning her the distinction of the longest-employed person at the College.
Nobles was born and raised in Selma before moving to Kinston at 16. After graduating high school, she continued her education at LCC with a plan to get an associate in arts degree in hopes of one day being a math teacher. However, after spending some time in her degree program, she decided to change paths and enter the Computer Programming Program before graduating in 1973.
Soon after graduation, she started a job with the City of Kinston. She worked there for about a year before somebody recommended her for a position at LCC. Little did she know that 49 years later, she would still be here.
The leap from her previous job to her new position at the College was no easy feat. She recalled that her first week was hectic as when she walked into work, Nobles was notified that she would be the only person working in the Registrar's Office. "No one knew what my role consisted of. I was handed the course catalog and told to read it, and that's what I did. (I read it) front to back for the entirety of my first week."
Thankfully after some time, she obtained a written copy of her job description, giving Nobles some direction into what her day-to-day would look like. During her time at LCC, Nobles has held five positions, including her current role as Research Coordinator in the Institutional Effectiveness (IE) Department. In addition, she has worked in the Registrar's Office, the Admissions Office,  and Information Technology (IT) and has been a liaison for the College's computer system. She said she has thoroughly enjoyed all her positions, but she admitted that IT was one of her favorites.
"Working in IT gave me the opportunity to be involved in all of the departments across campus. Back then, IT was involved in everything."
When not in her office, you can find her working with the athletic department. Nobles keeps score for the Lancer basketball, baseball, and volleyball teams. "If they don't want me to retire, they can put me in athletics, and I'd never leave."
When she leaves work, she goes to the recreation department, where she works as the gym and field supervisor at Contentnea Savannah Recreation Center. "I work here, and then I go there. I love it and find the time I spend there very fulfilling."
A highlighted memory for Nobles was simply the family unit the College used to be before the College has grown into what it is today. "In the Registrar's Office and the Admissions Office, I not only knew my coworkers, but I knew their families. Back then, I could tell you the names and birthdays of everyone's children."
So why stay at LCC for so long? "I love what I do. Simply put. I may have had challenging days, but my experience at LCC has been rewarding," says Nobles.
"I just hope that people remember me to be a kind person. I pray that they remember me as a helpful person who would never say no."
Nobles would advise employees who want to make a career at LCC, saying, "Keep on keeping on. Of course, you will have challenging days, but as long as you love what you do, the good outweighs the bad. I know my time here has been fulfilling, and that is the only thing you can ask for."