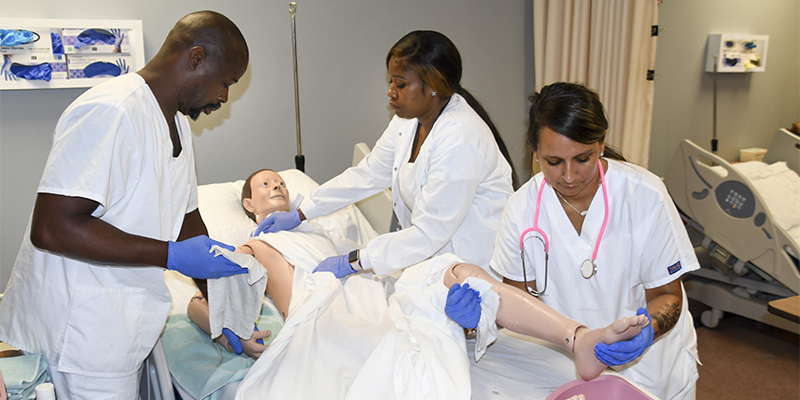 By Richy Huneycutt
Are you looking for short-term training options in the healthcare field? Lenoir Community College offers short-term training opportunities in satisfying health-related courses that provide rewarding careers in areas that serve others and improve the health and well-being of individuals in Lenoir, Greene, and Jones Counties.
Dr. Faith Bynum, Director of Health-Related Programs, said employment opportunities include hospitals, rehabilitation facilities, nursing homes, health insurance organizations, outpatient clinics, physicians' offices, hospices, and mental health facilities, to name a few.
"These training programs offer students interested in the health sciences an opportunity to explore the field, which could lead to a diploma or degree program," she said.
Short-term training offered includes classes in Activity Coordinator, EKG Tech, Healthcare Billing & Insurance, Medical Coding, Health Unit Coordinator, Lab Assistant, Medical Interpreter, Medication Aide for Nursing Homes, Medication Aide for Adult Care, and Nurse Aide I and II, Nurse Aide Refresher, Nurse Aide II Competency Assessment, Pharmacy Technician, Phlebotomy Technician, and RN Refresher.
One of the College's newest offerings is Psychiatric Technician. Dr. Bynum said the course is designed to prepare individuals with the knowledge and skills needed to provide safe, therapeutic patient care to those with mental health/behavioral needs. Successful completion will prepare students for the Level I American Association of Psychiatric Technicians certification exam and entry-level positions for Psychiatric Aides, Mental Healthcare Technicians, and Healthcare Techs/Nurse Aides. "Classes are offered in person and synchronously. As a result, a student can complete their training at home and earn a national certification to be a Psychiatric Technician," she said.
For more information, visit Job Skills Training.