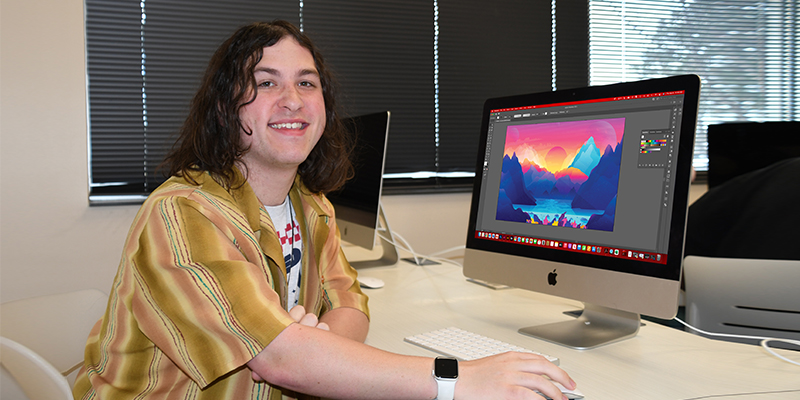 By Cailyn Kennedy
Jonah Daniels could never find an artistic outlet that stuck with him, that is until he discovered the Graphics Department at Lenoir Community College.
The La Grange native grew up trying the traditional route for someone with a creative personality. He poured himself into his painting and drawing but could never find the motivation to stick with it. However, during his first semester at a neighboring community college, he happened upon the LCC Graphics Program, leading him to where he is today. He knew he wanted to apply but decided to complete his general education classes where he was before applying to LCC to explore his affection for graphics.
He said he has always been creative, but a core memory for him occurred during his high school career at Spring Creek High School when he took a journalism class. During his senior year, he was tasked with an editing position where he headed up the yearbook cover. This is where his passion for designing took its roots.
Daniels double majored in Graphic Arts & Imaging Technology and Advertising & Graphic Design. He held a 3.9 grade point average and graduated in May. He has thoroughly enjoyed his time at LCC stating, "I love being able to go into the classroom, create my design and follow it through till the end in the print shop. Getting to see my work made into a physical product is rewarding."
He was recently awarded the $2,000 multi-year merit-based Treadway Scholarship from the Printing Industry of the Carolinas (PICA). One of the primary focuses of the PICA organization is to target community colleges in the Carolinas in hopes of supporting students and their colleges.
He said receiving this scholarship was an honor, but the true honor was winning the top collegiate award for his digital printing and packaging design of an interactive 3D structural marketing piece this semester. This award is sponsored by NCPCO, a packaging company based in Sparta, NC. It comes with a $500 scholarship and a $500 donation supporting the LCC Graphics Program.
"I recommend this program for anyone interested in anything creative-based," Daniels said. This program is amazing because I can take my time, take a break, and come back to make any changes or fix any mistakes I have made. It is something that does not frustrate me like other creative outlets have."
He plans to take a gap year to hone his skills before stepping into the working world. He feels that his experience at LCC has prepared him exceptionally well for stepping into this new phase of life, and he is eager to take on the challenges that are coming ahead.