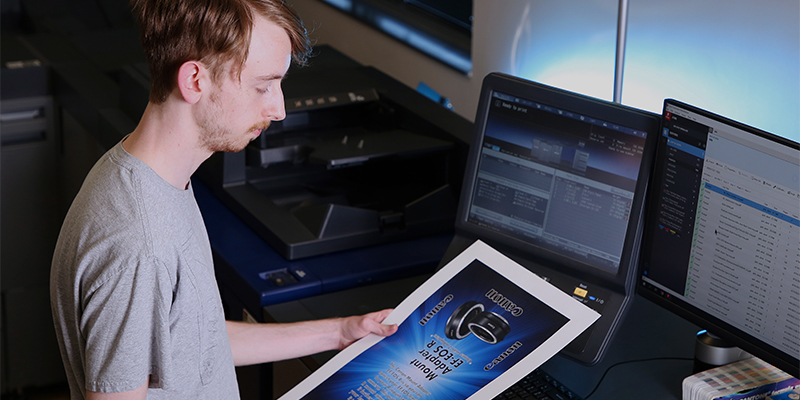 By Cailyn Kennedy
Picture the logo on a t-shirt, the billboard on the highway, or an advertisement on a website. Each of these designs was once on the desk of a graphics professional before being sent out into the world.
Lenoir Community College offers students two degree options in the Graphics Program. Students can obtain an Associate in Applied Science degree in Graphic Arts and Imaging Technology, or students can also earn an Associate in Applied Science degree in the closely related Advertising and Graphic Design Program, which has more emphasis on creative skill development.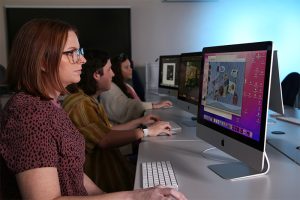 Program Chair Dwight Downie says it typically takes students two years to complete the degree track, with most courses being offered in a blended and hybrid format, with some being offered completely online.
No matter which degree track students decide to pursue, most of this program's training is in graphic design, computer graphics, printing technologies, advertising, packaging, production processes, web/mobile UX/UI design, and photography.
"There are opportunities for everyone in this program since it provides a wide range of training from the creative side, including marketing and advertising, all the way through printing production technologies," Downie says. "The typical graphics student is imaginative, creative, familiar with technology, and enjoys high-tech training."
He said students will spend a great deal of time getting hands-on experience. Almost all the courses in the program include hands-on project-based requirements where students produce projects from the creative process all the way through finished prototypes and market-ready products. In addition, most courses have extensive lab components that provide time, access to equipment, and technology. Students spend approximately 80 percent of each class working on hands-on lab projects.
The College program is unique since training consists of a blend of creative and technical skills along with access to state-of-the-art equipment and technology that is second to none. The department houses wide-format presses, digital color presses, a robotic cutting table, a photo studio, two iMac computer labs, screen and offset printing equipment, and various bindery and finishing equipment.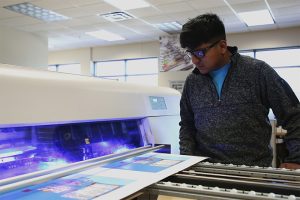 Another unique offering is that the department houses two closely related degree programs in Graphic Arts & Imaging Technology and Advertising & Graphic Design while allowing students the opportunity to double major. Since both are under one department, the programs seamlessly provide additional opportunities for students interested in the field and are much more cost-effective for the College.
"My favorite part of this program would have to be designing. I love taking courses here that allow me to explore my creativity," says Gregory Cox, a student in the Graphics Program. "I've enjoyed my time at LCC in this program. I know I would love to do this as a career."
Graduates from this program can find employment in the traditional graphics and printing industry, such as commercial printing companies, sign shops, and screen printers, as well as in marketing and advertising. Additional opportunities are increasing as more companies are bringing marketing and graphics in-house so graduates could be employed by hospitals, educational institutions, manufacturing companies, and aviation companies, to name a few. In addition, every company in the public and private sectors needs graphics services to promote their products and services through traditional print media as well as electronic media, including social media, websites, mobile apps, and more.
A piece of advice from Downie, "Be curious about how broad the graphics industry really is and explore the types of jobs that are out there to discover what you'd like to do as a career. Figure out what credentials and skills the job requires and then work backward to figure out how to get there from where you are today."
For more information, visit LCC Graphics Program.