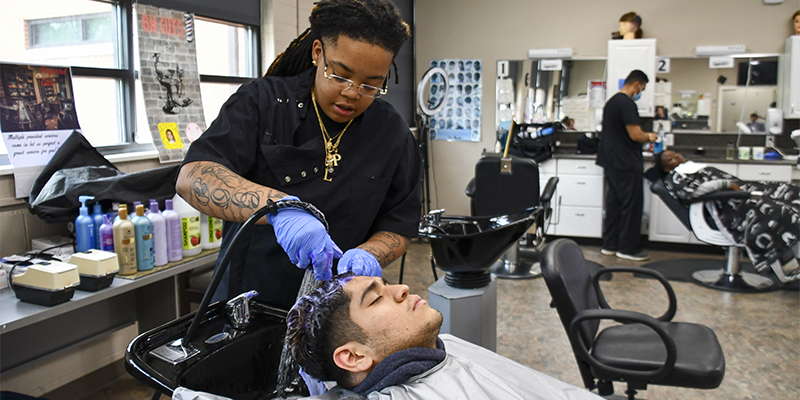 By Cailyn Kennedy
From its start in 2012, Lenoir Community College's Barber School in Greene County has been attracting students from surrounding areas. The program's demand is one reason a second LCC Barber School opened in Jones County in March 2022.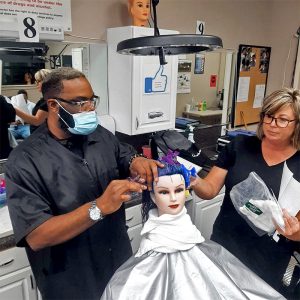 Approximately 20 students are accepted into the program each year, where they will spend an entire year working towards getting their barbering license. The state requires the students to complete 1,528 hours in theory and practical application.
"During this year, students will split time between the classroom and hands-on experience where they will learn all aspects of men's haircutting, shaving, and shampooing, as well as women's services such as hair coloring, chemical services, facials, and every facet of barber science," says Angela Bullock, student administrator for both barber schools.
While some students can attend barber school full-time, others do not have the same option. "The biggest challenge for students I have noticed is balancing employment and attending class," says Bullock. "Whether this is working a third shift job, then attending class full time, or working full time and attending an evening class part-time."
Considering this, the Greene County location, housed in the LCC Workforce Development Center in Snow Hill, offers a part-time class for its students who cannot come during the daytime.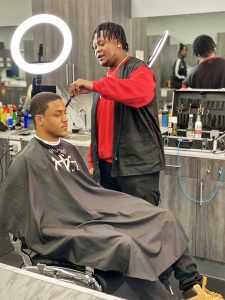 Currently, the schedule for the Greene County location consists of the full-time day class being remote on Mondays and in-person Tuesdays through Fridays from 8:15 a.m. to 5:15 p.m. The evening class is part-time, where they are also remote on Mondays and in person Tuesdays through Thursdays from 5:30 p.m. to 9:30 p.m. and Saturday mornings from 8:00 a.m. to 12:00 p.m.
The Jones County Barber School is in downtown Trenton. They have a full-time program where students attend their classes remotely on Mondays and are in the classroom Tuesdays through Fridays from 9:00 a.m. to 6:00 p.m.
Bullock said students in the program are pushed to perfect their craft as much as possible. "My favorite part of this program is getting to see my skills grow and gaining confidence in my work," says student Dinisse Romero-Avila.
"My biggest challenge has been mastering rolling hair on rods. However, I am now comfortable with it because of how much we practice," says student Keona Edwards. "After graduating, I hope to work in a shop and grow my skills."
For more information on the Barber School Program, visit Job Skills Training.