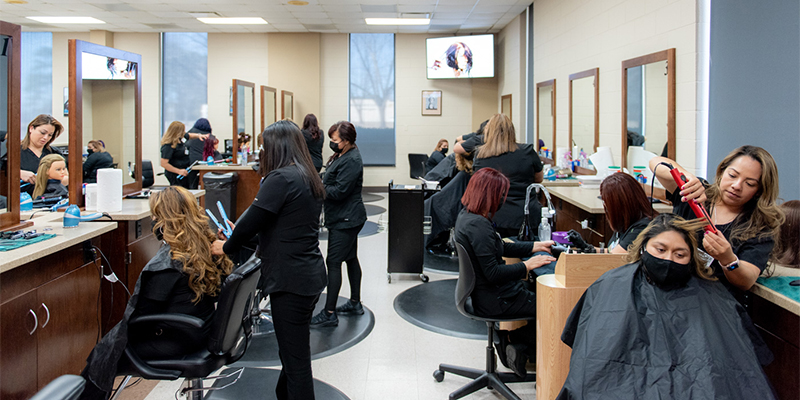 By Cailyn Kennedy
Looking for a career in cosmetology? Lenoir Community College has options to fit your schedule and your career goals. Whether you are interested in short-term training or a degree, you can start your educational journey at LCC and explore a variety of careers in the program.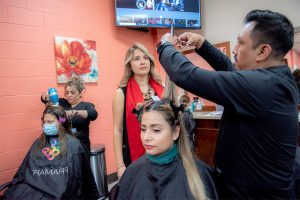 Students are immersed in a stimulating environment where they can enjoy a hands-on experience learning from talented and creative instructors while getting the opportunity to work with real-life clients.
The Cosmetology Program for both options is designed to provide its students with competency-based knowledge, scientific/artistic principles, and hands-on fundamentals associated with the cosmetology industry. These teachings apply to any student who walks through their doors regardless of which path they decide to take.
"Students will spend their time getting to work in an environment that is as realistic as we can," says Continuing Education Cosmetology Program Director Miriam Del Toro Gutierrez.
The continuing education program provides classes for its students even if they cannot attend during regular school hours, offering night and weekend classes and classes in English and Spanish. "There is always something going on here. We are almost always open to our students and those who would like to come and have a service done," says Del Toro Gutierrez.
While some students choose the continuing education option, others prefer to enter the degree program. Students in this program will also receive instruction in all phases of professional imaging, hair design, chemical processes, skin care, nail care, multicultural practices, business/computer principles, product knowledge, and other topics. Based on availability, this program can take anywhere from one to two years for students to complete.
"Students who enter the degree program have the option of completing their full required 1,500 hours at the College before sitting for their state boards or completing 1,200 of those hours at LCC and then continuing their experience working under the mentorship of a current cosmetologist for their remaining hours," says Program Chair Christy Riley.
LCC also offers certificate programs for nail technicians and natural hair care. For each certificate program, students will spend around 360 hours working towards earning their certificate. These programs typically take students four months to complete. The College also offers esthetics, which takes approximately eight months to complete, according to Del Toro Gutierrez.
Upon completing either option, students who complete their studies and successfully pass the State Board exam will be issued a license and sent to start their careers.
"My great aunt went through this program, and when I finally decided what career path I wanted to take, I knew I wanted to follow in her footsteps at LCC," Megan Price, a current cosmetology student in the degree program. "My favorite part of this program is being able to work with clients and learn the overall process of working in this field."
"No matter which path you want to take, I always recommend these programs to those who have the desire to make people feel better about themselves," says Riley. "I think at their root, people who enter this profession want to provide services to give people more confidence and an overall better outlook on themselves."
For more information regarding the Continuing Education Program, please visit LCC Short-Term Training.
For more information, visit LCC Cosmetology Degree Program.