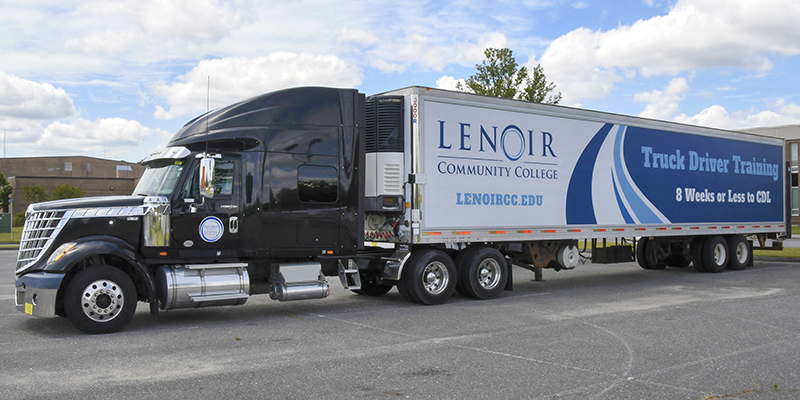 By Allie Bluhm-Whitley
Beginning a new career that earns high wages does not have to take a long time. With Lenoir Community College's Truck Driver Training Program, students can roll on to a new career as a truck driver in as little as nine weeks!
Since 2017, the Truck Driver Training (CDL) course has provided students with the training to inspect and operate tractor-trailers and assume driving responsibilities on the road. Upon completion of this course, the student is prepared to pass the NC Department of Motor Vehicles (DMV) CDL Class A skills exam and prepared to apply for employment with a reputable motor carrier as an entry-level driver.
Courses are offered during the week from Monday through Friday. When taken during the week, the class can be completed in nine weeks. Can't make it to a weekday class? Students who are looking for flexibility can take truck driver training courses offered during the evenings and weekends. Tuesday evenings are used for theory classes, while Saturdays and Sundays are reserved for field and road practice.
Prudencio Martinez, Workforce Development Coordinator, speaks very highly of the program. "There are many jobs available for truck drivers in our area," he said. "A quick search of truck driver jobs in our area gave me over 200 results." The job market for truck drivers is expected to grow in the coming years.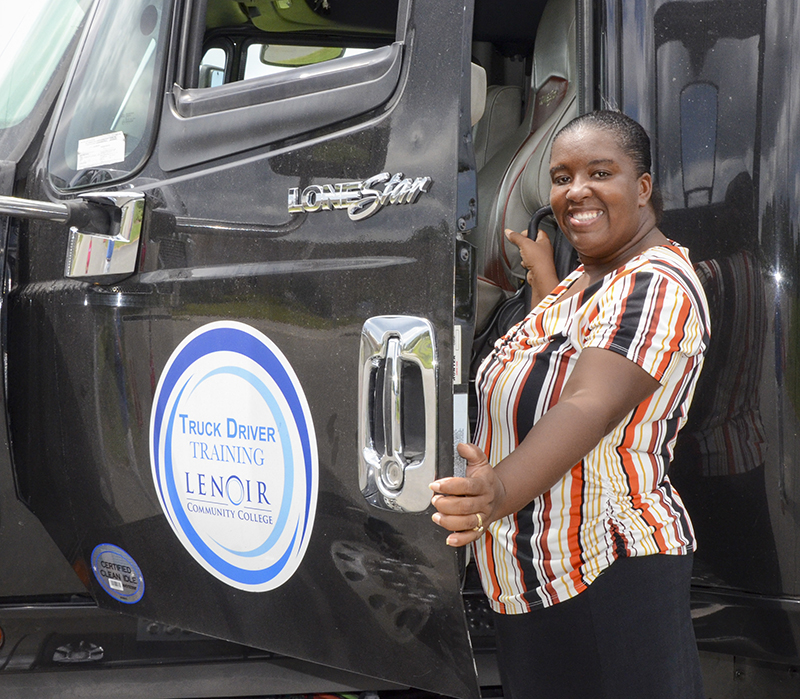 Along with plenty of job opportunities, truck driving pays very well. "Many employers offer incredible sign-on bonuses and benefits," Martinez said. "I recently spoke with a former student, and after gaining some experience and obtaining additional endorsements, he got a job offer with a major fuel company earning over $100,000 a year."
Endorsements such as Hazmat or Tanker allow truck drivers to get more highly skilled positions, which increases earning opportunities. "We are opening a Hazmat Endorsement class that will be able to accommodate up to 20 students per class," Martinez said. "This is great because we are one of the few, if not the only college in Eastern North Carolina that will offer the course. Other providers are private institutions that tend to be much more expensive to the student."
Speaking of cost to the student, the Truck Driver Program costs LCC students $2,000. However, Workforce Innovation and Opportunity Act (WIOA) grants and other financial assistance opportunities can offset this cost.
To qualify for the Truck Driving class, students must meet a few requirements. Students must be 18 years old, be fluent in English or have a Professional Working Proficiency in English. They must also have a North Carolina driver's license along with a Department of Transportation (DOT) physical and drug test. A DOT driving record and CDL Class A Permit are also required. Finally, participants must have a pre-hire letter from an employer of their choosing.
When asked for details about a pre-hire letter, Martinez explained it as "a letter stating the prospective student meets the qualifications of employment as a driver for the company. It is not an employment commitment." A list of companies that will provide a pre-hire letter can be provided for prospective students.
What happens when a student successfully finishes the class? First, an instructor will take the student to the DMV, where they will complete their CDL skills test. If they pass the test, the student will receive their license. "The majority of our students have passed the skills test with flying colors the first time they take it," Martinez said. "If for any reason they do not, they have another chance to practice and go back to testing, and they usually pass."
A prospective student can expect the test to include a pre-trip evaluation, an in-cab inspection, maneuvering and parking evaluations, as well as a road driving evaluation.
Employers of LCC graduates of the Truck Driver Program include Carolina Ice, Smithfield, Sanderson Farms, and more.
Martinez is extremely proud of the program and has loved watching graduates succeed in their new careers. "Finding myself in a position where I can open doors to opportunity for people who need a chance to better themselves is the most rewarding thing about this program to me," he said. "It is the right moment to become a truck driver because the chance of a great job is out there."
Becoming a truck driver was a long-time goal and a point of pride for graduate April Adams. "I have wanted to drive trucks from the time I was in middle school," Adams said. "I thought being a female truck driver would be really awesome, and women can do anything a man can do."
Truck Driving Instructor, Karen Lombardi, gave Adams the encouragement and support she needed to successfully complete the class. "She pushed me and encouraged me when I felt like giving up." Adams also credits Martinez for her success, "Prudencio helped me get the grant that kept me in the class when I couldn't afford to pay the tuition."
Adams has succeeded outside the class as well. "I have just received a job offer from J & R Schugel because I've done my very best to drive with the passion I have for my new career," she said.
When asked why she chose LCC, Adams said, "LCC really wanted to help me move forward in all my endeavors." And what does she love most about her new career? "I love being on the road, getting the experience and opportunity to get out there and do something I've wanted to do for so long."
For more information about upcoming classes, visit LCC Truck Driver Training.