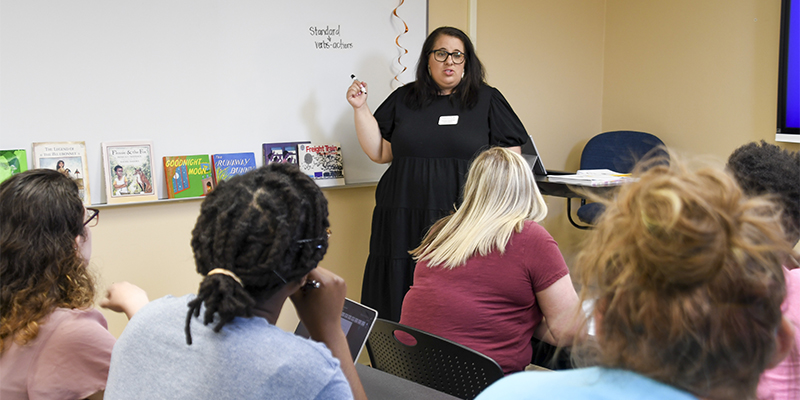 By Richy Huneycutt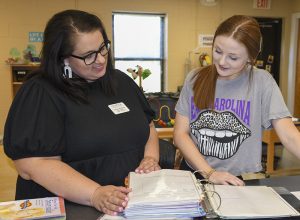 Becoming a teacher just got a little easier through Lenoir Community College's newest programs – Teacher Prep – Associate in Arts and Teacher Prep – Associate in Science. Students interested in earning a degree in elementary, middle, special education, or secondary education will now be able to begin their first two years at LCC before transferring to a four-year university.
Qualifying students can begin their education while still in high school through Career and College Promise (CCP), taking classes tuition free.
The teacher prep programs prepare students with competence in teaching, writing, oral communications, fundamental mathematical skills, and basic computer use needed to transfer to a four-year university for teacher preparation and licensure.
"We are so excited to offer these programs to students who are interested in teaching. This is a great opportunity for aspiring teachers to get their first two years of a teaching degree potentially free or at very little cost," Program Chair Caroline Murphrey said.
Students who enroll in the teacher prep programs will find the small class sizes, availability of the education instructor, personalized advising, as well as optional workshop hours for assistance with lesson plans to be a plethora of support to send them off successfully on their path towards transfer.
"We are working to grow teachers to come back to the counties we serve. We partner with local school districts to allow students to observe great teaching and learning right in our own backyard," Murphrey said. "Students complete over 30 hours of observation in classrooms before their graduation date, giving them the opportunity to see rich environments of teaching and learning," she said.
"As the world of education is forever changing, we want our students to be ready for the digital classroom they will enter, therefore we have prepared a digital learning component that will be woven into each of the face-to-face classes," she added. "The Teacher Preparation Classroom is being set up as an Apple classroom with a 1:1 iPad, Apple pencils, and Apple TV for students to observe, participate, and engage in educational technology. It is my hope that when our students transfer to their university of choice, their instructors will know they have a solid foundation because they came from LCC."
Murphrey said she chose the teaching profession because she wanted to make a difference in people's lives. "I had some pretty amazing teachers as a child, and I decided I wanted to be the teacher that someone needed, not just the fun teacher with creative and fun ideas, but the teacher for all students – the student on the back row that didn't even know they needed me, but they did. That impact, that footprint is far greater than any test score," she said.
"As a teacher, it's about building relationships with our students, seeing them for who they really are and valuing that, and helping them grow," she said. "Being a teacher is a job that sometimes feels thankless, like a hard worker in the background, but when you witness the 'lightbulb' moments when a child gets it, it is the most rewarding profession around."
For more information, visit LCC Teacher Prep.