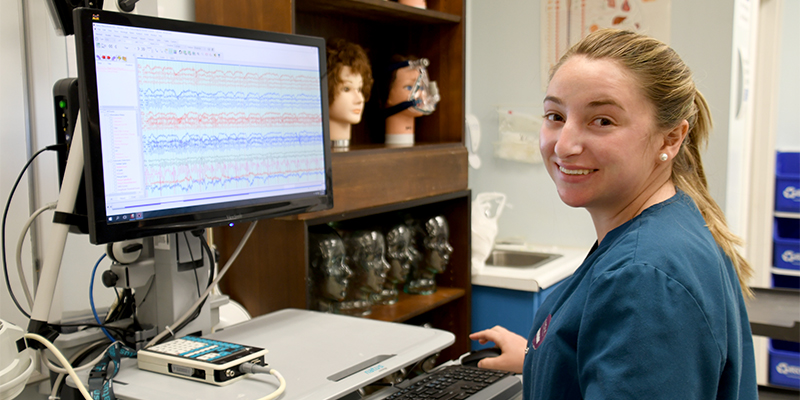 By Richy Huneycutt
Lenoir Community College's newest Health Sciences program – Electroneurodiagnostic Technology or END, as it is known in the field is not the "end" for students seeking this degree, but the beginning.
"The purpose of the Electroneurodiagnostic program is to prepare individuals to go to work in the neurology field alongside neurologists, neurosurgeons, and other healthcare professionals" Program Chair Beth Payne said. "Neurodiagnostic technicians are trained to look for neurological deficits, such as seizures, encephalopathies, trauma etc. They also learn to record and read electrical neural outputs of the brain, nerve pathways, and muscles, and assist physicians to accurately diagnose, treat, and educate patients. Graduates will work alongside physicians to manage patient's progress and care."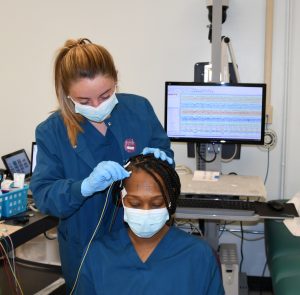 Payne is also the program chair of the Polysomnography (Sleep Medicine) program where individuals, working in conjunction with a physician, are prepared to perform and interpret sleep studies and to provide comprehensive clinical evaluations that are required for the diagnosis of sleep studies.
"The main difference between END and Polysomnography is that while Polysomnography deals with sleep disorders, END looks for neurologic disorders. With both programs, electrical output from the body are looked at to discover disorders or deficits."
In the first couple of semesters, students can expect to learn the fundamentals of healthcare, such as infection control, vitals, taking medical histories, and three intensive anatomy and physiology courses. As students' progress in the program, they will learn to use diagnostic equipment, read neural outputs of the brain, nerve pathways, and muscles, and prepare data and reports for physicians.
The END program will utilize the newest diagnostic equipment available. "This will be an advantage for students. The equipment students' use while practicing in lab will be identical to what they see in their clinical rotations, and at their jobs after graduation."
Students must complete more than 500 hours of clinical work to graduate. Clinical sites are spread throughout the area to better serve students.
According to Payne, the skills that students will gain in the program go beyond hands on skills. They include learning how to communicate with physicians, peers, families and patients of all ages. They will learn what it means to be a healthcare professional, and how to conduct themselves professionally and ethically within the field.
"The job outlook for neurodiagnostic technicians is very good in our area," she said. "Not only is there a need in Lenoir County, but the Raleigh-Durham-Chapel Hill area has the second greatest need for neurodiagnostic technicians in the country."
The Electroneurodiagnostic Program at LCC is one of two in the state. "A strength of the program is having the polysomnography sister program. This means LCC is already equipped with the tools needed to teach this type of health science program effectively," Payne said. "Strong bonds with clinical sites have already been made, which allows the College to provide their students with the best clinical experiences possible."
"Although relatively new to the healthcare world, Electroneurodiagnostics has been rapidly growing for many years now," said clinical coordinator/instructor Amber Smith. "Our hope is to provide a positive and informative experience for each and every student in the program."
For more information, visit LCC END Program.