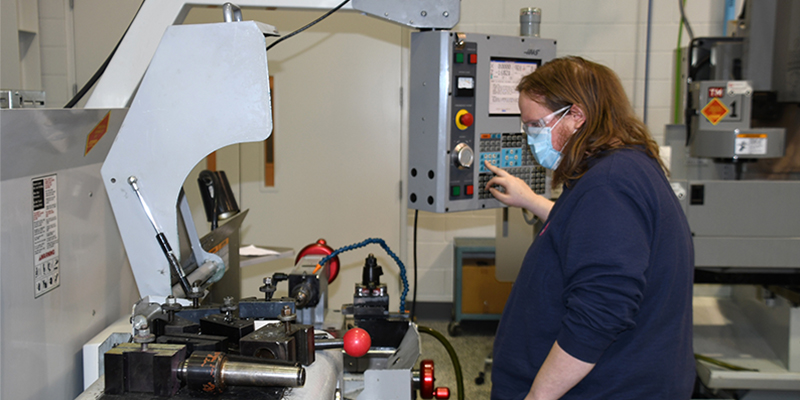 By Mallory Kennedy
As the manufacturing field continues to grow, Lenoir Community College's Computer-Integrated Machining (CIM) Program is placing students in jobs before they even graduate!
The CIM program, which is housed at the Aerospace and Advanced Manufacturing Center (AAMC) located at the Global TransPark prepares students with analytical, creative, and innovative skills necessary to take a production idea from an initial concept through design, development, and production, resulting in a finished product.
Stude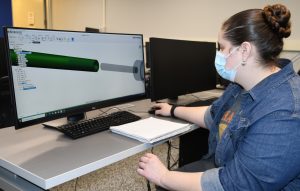 nts practice the use of computer application, engineering design, computer-aided drafting (CAD), computer-aided machining (CAM), blueprint interpretation, advanced computerized numeric control (CNC) equipment, basic and advanced machining operations, precision measurement, and high-speed multi-axis machining.
"Students who do well in this program are those that enjoy working with their hands and are creative. The artistic aspect of the program gives students the ability to take an idea from design to a finished product,"  Program Chair Andrew Luppino said.
As a graduate of the LCC Computer-Integrated Machining program, Luppino knows how important it is for his students to get hands-on experience to prepare them for when they enter the job field.
According to the U.S. Bureau of Labor Statistics, the median pay for CNC Machinist is $45,750. Graduates are securing jobs at manufacturing industries, specialty machine shops, fabrication industries, and high-tech emerging industries such as aerospace, aviation, medical, and renewable energy. Upon completion of the program, graduates will qualify to sit for machining certification examinations.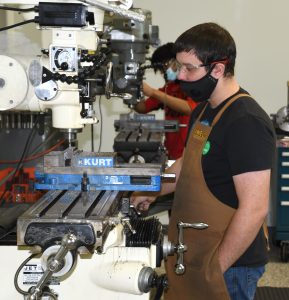 While in the program, students have access to state-of-the-art machines and equipment, so that when they enter the job field, they are familiar with the most current programs, skills and techniques needed.
The program offers students the ability to earn four certificates, two diplomas, or an associate degree. While in high school, eligible students can take college courses towards a degree in machining. Through the Career and College Promise Program (CCP), these students can enter the workforce sooner with little to no student debt straight out of high school.
"Our surrounding area is growing rapidly with manufacturing facilities and the need for CNC machinist is rising," Luppino said, "We are here to ensure that there are skilled students ready to fill those jobs"
For more information, visit LCC Computer-Integrated Machining.