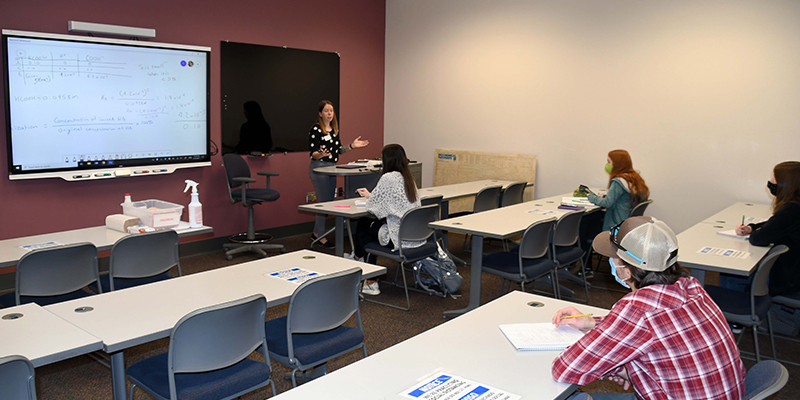 By Mallory Kennedy
Lenoir Community College is excited to announce three new program offerings soon to be available for students! Beginning fall 2021, students will be able to enroll in Associate in Arts-Teacher Preparation, Associate in Science-Teacher Preparation, and Associate in Applied Science-Public Safety Administration.
Students interested in earning a degree in elementary, middle, or secondary education will now be able to begin their first two years at Lenoir Community College, with some students qualifying to begin their education while still in high school through Career and College Promise (CCP), available to eligible students. In addition, scholarship opportunities are available to qualifying students through the LCC Guarantee Scholarship Program, which can potentially mean two years of free education for students.
These degrees are considered current teacher preparation programs and are intended to prepare students with competence in reading, writing, oral communication, fundamental mathematical skills, and basic computer use needed to transfer to a four-year university for teacher preparation and licensure.
"What an awesome opportunity for aspiring teachers to potentially receive their first two years of a teaching degree completely free or with very little to no cost, and then to move on to a four-year university with junior status, Dr. Timothy Maddox, Dean of Arts and Sciences, said. "We are so excited for this opportunity now available to students in Lenoir, Jones, and Greene Counties."
The Associate in Applied Science- Public Safety Administration curriculum is designed to provide students, as well as practitioners, with knowledge and skills in the technical, managerial, and administrative areas necessary for entrance or advancement within various public safety and government organizations. Students who have previous experience in the public safety field are able to apply that towards their degree to receive credit.
Employment opportunities exist with fire or police departments, emergency management organizations, governmental agencies, industrial firms, correctional facilities, private industries, insurance organizations, educational organizations, security and protective organizations, and through self-employment opportunities.
"This new degree program provides a great opportunity for individuals currently working in the field of Public Safety to advance their career and receive credit for training they've already received over the years. The inclusion of tracks for law enforcement, and emergency and fire management services give students an opportunity to tailor their degree toward their specific field," Dr. Justin Tilghman, Dean of Public Safety and Emergency Management, said.
For more information, visit LCC Teacher Prep or LCC Public Safety Admin.