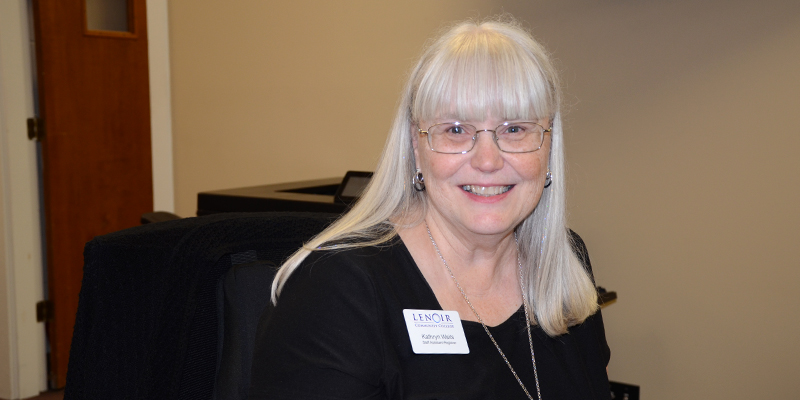 By Richy Huneycutt
Little did Lenoir Community College graduate Kathryn Waits of Kinston know that her work study experience as a student would also land her a job at the College.
"When I started taking classes in August of 2013, I began as a work study at the switchboard," she recalled. "In March of 2015, I was given the opportunity to move to the Registrar's Office as a technical assistant when the office staff assistant moved to another job. When I graduated in May of 2015, I applied for the staff assistant position and was hired full time in June of 2015."
A 2015 graduate, she received an Associate in Applied Science (AAS) degree in Medical Office Administration (MOA). "I chose that program because I wanted an opportunity to help make other people's lives better in some way," she said. "I felt that working in a medical setting I could accomplish that goal."
While not in the medical field, Waits still has the opportunity to help others through her role at LCC. "I like interacting with the students to try and help them achieve their education goals," she said. "I feel that this job gives me the opportunity to help students make their lives better. Also, because of the multi-dimensional aspects of the job, I am never bored."
The skills she acquired in the Medical Office Administration are skills and lessons she uses in her current position. "I gained skills in Microsoft Office which are really helpful in my current job. I also learned soft skills which help me to interact with other people in a professional way," she said.
Waits said that word processing was her favorite subject. "I felt a great sense of accomplishment when I was able to create flyers and pamphlets on my own using the skills taught in word processing."
The best part about the program was the instructors, she said. "They really cared about me as a person and did all they could to help me succeed."
Since working at LCC, Waits has been taking a class each semester towards obtaining her AAS degree in Office Administration/Office Professional. She will complete the requirements for that degree in July.
The mother of two sons, four grandchildren, and one great-grandchild, said the best advice she could give to students wanting to go in the field of Medical Office Administration or Office Administration is to take advantage of all opportunities available to help you and work hard. "This will enable you to achieve your goals no matter what your age is," she said.
Waits said that she is grateful for the opportunities she received at LCC that allowed her to accomplish her goal. "Even though I did not get a job in the medical field I pursued, I feel that I am exactly where I should be – helping others to make their lives better."