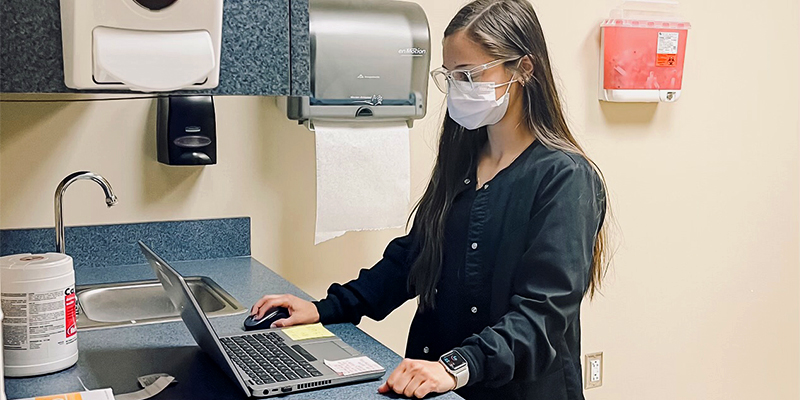 By Mallory Kennedy
Lenoir Community College senior Medical Assisting students did not know that they would soon be a part of making history when they first enrolled in the program just months before a global pandemic.
Just a few weeks into the second semester, COVID-19 totally changed how Program Chair Rebecca Dail taught her medical assisting students.
"Like many others, we had to adapt and overcome obstacles so that my students were given the education they needed to be successful medical assistants upon graduation,"  Dail said.
Medical Assisting students are required to complete clinical rotations as part of their curriculum. After Dail's students completed their rotations with UNC Lenoir Health Care in Kinston, they opened up a vaccine clinic and were needing trained personnel to help administer the vaccine.
"This was a great opportunity for my students to not only be a part of history but to gain experience building communication skills and working with a team in a high-pressure environment," Dail said.
Senior year students Cassidy Winfield and Gwendolyn Edgeston were some of those who helped administer the vaccine to members of the community.
"I feel honored to know I was a part of making history,"  Winfield said.
"Knowing I was part of a team that was working to help make a difference in the world is a humbling feeling," Edgeston added.
"Being a student in the healthcare field during a pandemic was a lot to handle in the beginning. On top of studying to become a Medical Assistant, we were having to add extra steps and learn new COVID protocols and guidelines,"  Winfield said.
Both Winfield and Edgeston are set to graduate in May 2021 with plans of working for UNC Healthcare.
For more information, visit LCC Medical Assisting.