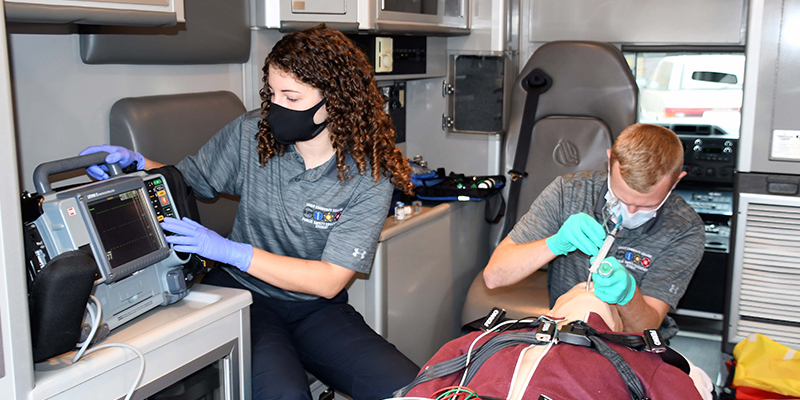 By Mallory Kennedy
Are you looking to jump start your career in the Emergency Medical Services (EMS) field? Look no further than Lenoir Community College's Emergency Medical Technician (EMT) course.
This 16-week course puts students on the fast track towards earning their certification so that they are able to begin their career in emergency services.
"We have one of the largest Emergency Medical Science programs in the state. We serve students from all across the United States, says Director of EMS, Darla Boseman. "Students have both certificate and degree options available to them."
"One aspect that makes our program appealing to students across the country is the flexibility we offer our students in earning their certification and degree. We offer the EMT course in a variety of ways so that students are able to continue working their full-time jobs while studying to earn their certification,"  Boseman said.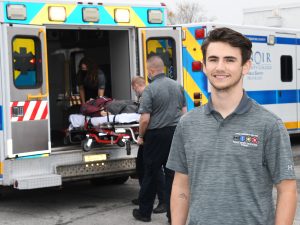 Once students have completed the EMT certification, they can go on to earn their Paramedic certification through our hybrid course offerings.  Once they complete their Paramedic certification, they can continue their education towards earning their Associate in Applied Science degree in EMS.
The Emergency Medical Science curriculum provides individuals with the knowledge, skills, and attributes to provide advanced emergency medical care as a paramedic for critical and emergent patients who access the emergency medical system and prepares graduates to enter the workforce. Students will gain complex knowledge, competency, and experience while employing evidence-based practice under medical oversight and serve as a link from the scene into the healthcare system. Graduates of this program may be eligible to take state and/or national certification examinations. Employment opportunities include providers of emergency medical services, fire departments, rescue agencies, hospital specialty areas, industry, educational, and government agencies.
The EMS degree program is offered on a fixed course rotation and will only accept students who are not an EMT in the Fall semester and students who are an EMT in the spring semester.
This program is offered in a hybrid format and students will attend classes on campus two days a week for the duration of their training.
Upon completion of the EMS AAS program, many students will utilize the articulation agreement with Western Carolina University and earn their Bachelor of Science in Emergency Medical Care online.
"Students who gravitate to this program are self-motivated and have a passion for helping others. Being able to adapt to different situations and having strong communication skills will help students become successful in the emergency services field,"  Boseman said.
"I would recommend anyone interested in entering the field of emergency services to take the time to visit with different providers, request a ride-along with an agency, or speak with someone who has experience in different areas of emergency services."
For more information, visit LCC Emergency Medical Science.